Here is the last of three Halloween-themed inspiration posts: a Bollywood Halloween wedding!
Today's palette is marigold orange, marigold yellow, gray and black.  It's a more vibrant set of yellow and orange than the first palette, which allows us to incorporate black while still maintaining the "Indian wedding" vibe.  It is totally different from the Gothic Halloween palette, despite both using black.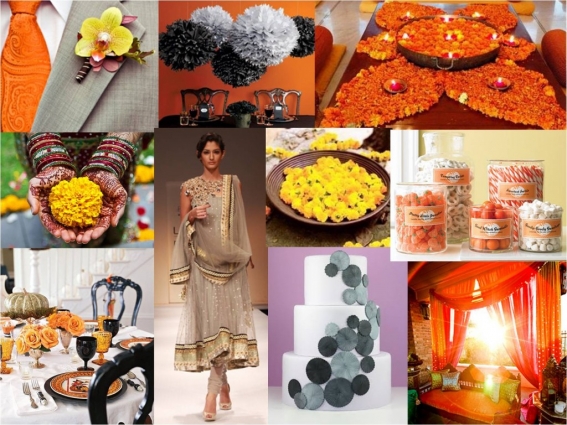 Clockwise from top left: The Knot, Brenda's Wedding Blog, Wedding by Color, Cote Weddings and Events, MyWedding.com, Cutest Food, Payal Singhal via Asian Wedding Ideas, Love and Silver, Tanya Plonka
Gorgeous real weddings with a Halloween theme:
Zombie Newlydead Shoots:
More tips on throwing a classy Halloween wedding:
Remember The Craft?
Love it.  Here's a song from the soundtrack.
Have a safe and happy Halloween!