Happy Monday! Today I'm sharing one of the prettiest and most unique weddings to ever grace this blog. My sweet friend Puja married her love Joe last year at Toronto's Copper Creek Golf Club. They had a fresh and vibrant wedding that was the perfect combination of both of their cultures. The innovative decor incorporated ribbons, garlands, and paper lanterns, and was simply an elegant explosion of colour! And my goodness, isn't Puja gorgeous in her Sabyasachi lehgna? You'll definitely want to sit down, grab a coffee (or chai), and enjoy this sweet and whimsical Italian Indian wedding by Kumari Photo|Cinema.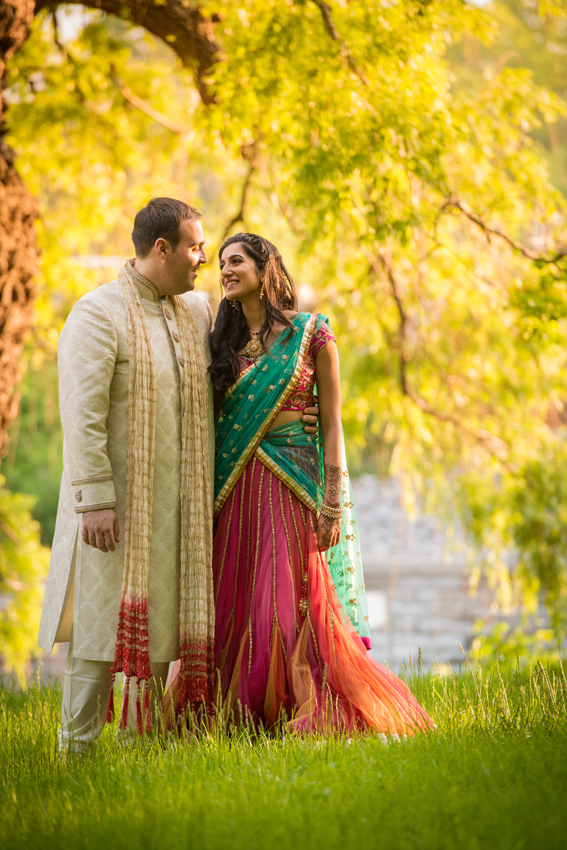 Puja, I adore your elegant green Sabyasachi lehnga! What inspired this unique choice?
We wanted something classic and timeless. I love the elegance of Sabyasachi and I just felt like a queen when I put it on. I also wanted a unique colour rather than the traditional red, and the emerald green blew me away.
Puja and Joe, what were your favourite parts of the day?
Puja: I loved when Joe tied the mangalsutra necklace on me. I got teary as the priest explained that the tying of the mangalsutra symbolized the eternal union between us, and how Joe would now take care of me and love me forever! A close second was after I was completely ready and walked out of the bridal suite to meet my brothers and male cousins who were to walk me down the aisle, as per tradition. I will never forget the looks on their faces – they were priceless. I am their littlest sister, so the look on their faces was a combination of awe in seeing me as a bride, and a bittersweet feeling about me growing up. I just loved walking down the aisle with them, holding their hands.
Joe: My fondest memory was hearing Puja come down the aisle and not being allowed to watch it happen because I wasn't allowed to see her at that point as it is part of the Hindu tradition. A close second was giving my wedding speech. I got to acknowledge everyone who attended, to show my appreciation, get nostalgic, crack some jokes and say nice things about my wife.
The ceremony and reception decor setups are both so lively and beautiful! What was the inspiration behind them?
We wanted something fresh and fun for the decor – the theme was East meets West so we had decided to have a "Western"/Italian style reception, as the wedding ceremony was Indian. However, we still wanted to keep the feel of an Indian wedding so colourful and bright décor was a necessity. Pink, orange and green go so well together. In addition to all the flowers being pink and orange, we had moss green tablecloths, and pink and orange paper lanterns in varying shades and sizes, hung from the ceiling. Smaller sized lanterns were used as the backdrop to the head table. We also had statues of elephants and eastern looking candleholders and vases to play up the East meets West theme.
Did you have any Do it Yourself (DIY) projects?
For the bombonieres, we made little mason jars filled with pink and orange bubble gum to complement the pink and orange round lanterns. We also made pink and orange personalized stickers with our initials and the date of the wedding. Finally, we tied green shimmery ribbon around it.
Your wedding is incredibly lovely, and you look so happy! Do you have any advice for couples who are still in the planning process?
Bride: Get a wedding planner, if just for the day of. It will take loads of stress off your plate. I didn't have a planner and everything went off without a hitch, but that was only because I had an incredible groom who took care of all the details I couldn't (because I was getting ready), and a sister who took care of everything else for me. That being said, things could have gone wrong and the stress of that was on my head in the weeks prior to the wedding.
Groom: Do as much of the foot work as you can and be patient. It's a much harder process for the bride (hair, makeup, dresses, fittings, etc). When the bride is making a decision ask her for her top three choices and then give your opinion on the top three otherwise you may drown in the overabundance of available options (It is possible to find yourself in a week long conversation about the perfect shade of pink).
Thank you so much Puja and Joe for sharing your sweet story and advice with us! Congratulations on your beautiful wedding. I wish you all the blessings in the world for a long and happy married life!
Credits
Images: Kumari Photo | Design // Venue: Copper Creek Golf Club // Decor: Creations by Gitta // Flowers: Gingko Floral // Wedding lengha: Sabyasachi // Wedding gown: Becker's Bridals // Sangeet lengha: Kalki // Entertainment: Sky's Band // Beauty: Amanda Reid